Clinch Academy
Team Members
LUKE RINEHART "AKA" THE BJJ RONIN
Luke is the owner & head instructor at Clinch Academy. Having trained since 1993, Luke brings a plethora of knowledge and experience to his students. In his years of training Luke has earned Black Belts in Tang Soo Do, Self-Defense Tactics & Brazilian Jiu-Jitsu. Luke has also studied intensely in Kenpo, Kickboxing, Muay Thai as well as other grappling arts outside of BJJ. Martial arts is a passion for Luke and living a life that reflects the warrior code is equally important. Love, joy, peace, patience, kindness, goodness, gentleness, faithfulness and self-control are our best weapons!
CATY RINEHART
Caty and Luke have been married since 2005 and she has officially been part owner since 2015. However, since they have been married Caty has helped with the bills, books, organization, events and many other projects. Caty has trained off and on while balancing working n the business as acting treasurer and secretary, home life & even homeschooling their 3 children, Braesen, Bronwyn and Judah. Caty has earned her blue belt in BJJ and is a level 1 certified "ClinchFit" coach. Graduating from Chapel Hill North Carolina with her degree in exercise science, Caty offers a lot of perspective. With a passion for helping others establish a healthy lifestyle whether it be nutrition, communication or just an overall way of life, Caty is always excited to serve those who are seeking transformation!
Black Belt Instructor | Team Manager
Joshua Madison
Joshua Madison has been with Clinch Academy off and on since it's beginning years. Joshua earned his Clinch Academy BJJ black belt in 2017 and is an instructor for our youth MMA, youth BJJ, & adult BJJ combatives programs. Joshua's wife Brandy (whom you will see below) also trains along with her kids Walter and Kailyn! Joshua's son's Nathaniel and Isaac have both also trained here!
Black Belt Instructor
Tom Ledwell
Tom Ledwell is the former Frederick police chief. Tom has been with Clinch Academy since 2005 and holds a second degree black belt in brazilian jiu-jitsu. Tom has been an inspiration to many students at the academy since he has struggled with arthritis for many years and has had to work around and modify his game accordingly. Anyone that rolls with Tom knows that his technique is incredible even though he has had these struggles. Perhaps these struggles have even made his game more effective! Tom was a certified Maryland police and corrections defensive tactics and general instructor even winning a instructor of the year award! Now Tom likes to pass his knowledge and passion onto his students!
Black Belt Instructor
Jesse Crumpton
Jesse has been training since Pre-Clinch Academy years. Starting in Luke's Youth Programs, Jesse eventually earned his BJJ Black Belt in 2012. Jesse currently Heads our Tuesday and Thursday Youth MMA Program along with our Adult Kickboxing Program.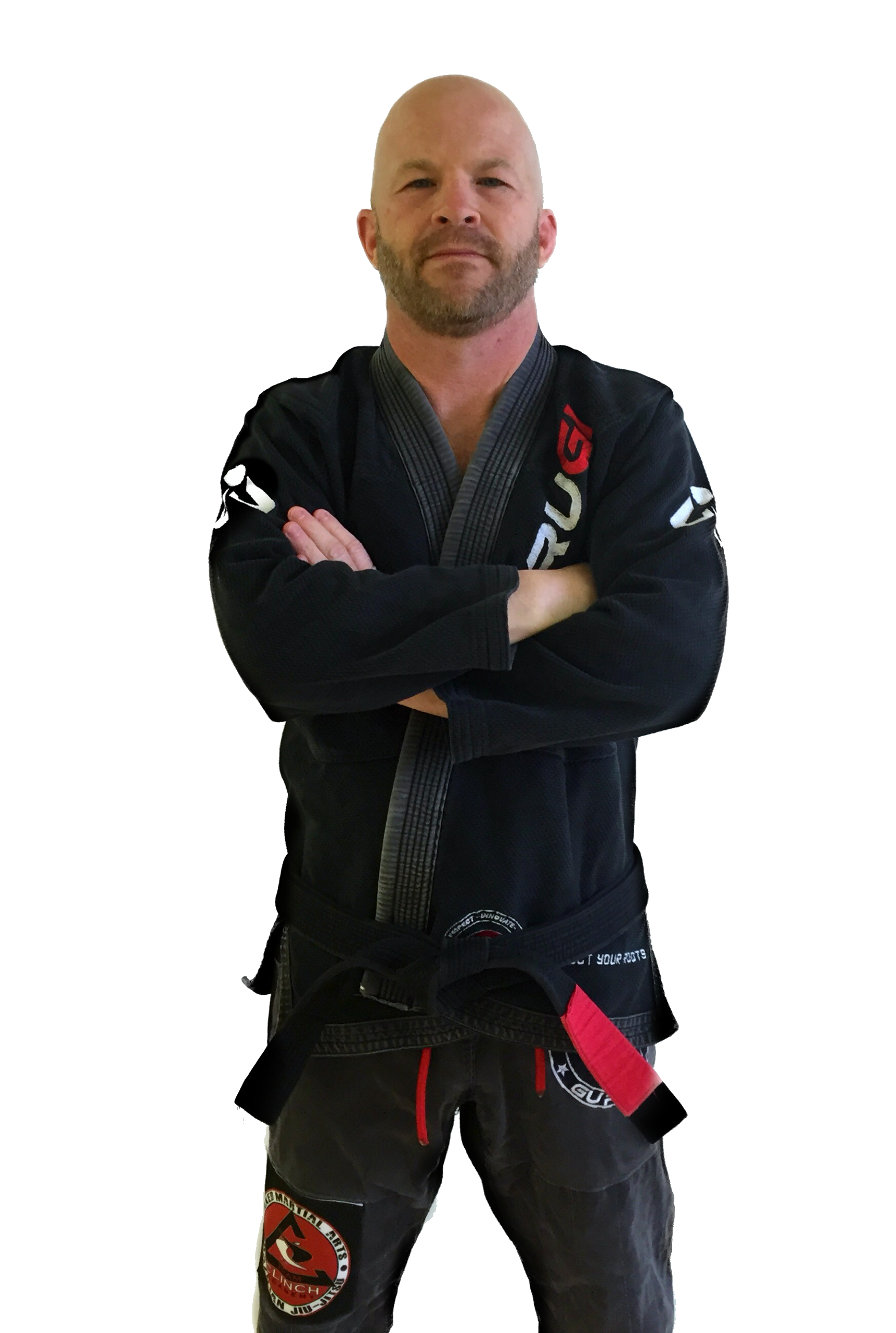 Black Belt Instructor
Jason McDonald
Jason has been with the Clinch Academy since 2006 and earned his brazilian jiu-jitsu black belt in 2016. Jason also has experience in wrestling, kickboxing, karate and MMA. Currently Jason teaches our adult Combat Jiu-Jitsu class and helps and is one of our ClinchFit Coaches. Jason's daughters Caroline and Ella both train at Clinch Academy as well!
Black Belt Instructor
Ken Pruedhomme
Ken showed up at the Clinch Academy all ready blue belt in Brazilian Jiu-Jitsu and a black belt in Tae Kwon Do. In 2017 Ken received his black belt in Brazilian Jiu-Jitsu at the Clinch Academy. Ken is now one of our "Adult BJJ Light Combatives" instructors. Our combatives class is our beginner level jiu-jitsu class. If you are looking to ease your way into jiu-jitsu, Ken's class could be the perfect one for you!
Black Belt Instructor
Mark Kroh
Mark Kroh has been with Clinch Academy since 2008. Mark earned his black belt in Brazilian Jiu-Jitsu in 2018 but has also trained in our Kickboxing & MMA programs as well. Currently Mark is teaching our Tuesday & Thursday 6:30 am BJJ class. If you are an early riser maybe you should give Coach Mark a visit in the A.M.!
Black Belt Instructor
Judy Riley
Judy made her way to Clinch Academy after already achieving her black belt in Tae Kwon Do. Judy is currently a 1st degree black belt in Brazilian Jiu-Jitsu. Also known as G.I. Judy, she has run many women's only fitness boot camps at the Clinch Academy. This helps explain why everyone struggles during Judy's warm-ups in our adult BJJ Master class!
Brown Belt Instructor
Russ Braden
Russ braden is another Karate black belt who has migrated into the Jiu-Jitsu world. Currently a Brown belt in Brazilian Jiu-Jitsu as well as having years of experience in kickboxing at Clinch Academy, Russ is one of our Youth MMA and ClinchFit coaches. In addition, Russ has recently become a certified Krav Maga Instructor and offer Krav Maga classes on Friday Nights at Clinch Academy.
Blue Belt Coach
Matt Crutchfield
With a wrestling background Matt Crutchfield wasn't new to grappling when he came to Clinch Academy. Currently a blue belt in Brazilian Jiu-Jitsu Matt is one of our youth Brazilian Jiu-Jitsu coaches. Matt also has several of his own kids who train in the youth BJJ program!
Blue Belt Coach
Luke Staley
Luke began his training at Clinch Academy in 2016. Currently a blue belt in Brazilian Jiu-Jitsu, Luke also is one of our amatuer MMA fighters, assistant youth coach and a ClinchFit Coach.
Title Fight Fitness Coach
Steve Connor
Steve Connor has been with the Clinch Academy since 2005. Steve came to Clinch Academy with a black belt in Karate and has earned his black belt in CFK Kickboxing and a purple belt in Brazilian Jiu-Jitsu. Steve has been one of our Kickboxing instructors and is currently our A.M. Title Fight Fitness instructor. If you are looking for a great morning workout Steve's class is just what you need!
ClinchFit Coach
Betty Harget
Betty Harget began her journey at the Clinch Academy by joining one of G.I. Judy's women only fitness bootcamps back in 2013. Betty has since earned her Purple belt in Brazilian Jiu-Jitsu and has also become a Level 1 ClinchFit Instructor. Currently Betty teaches one of our co-ed ClinchFit classes. If you are looking to punch and kick your way into shape, you need to come pay Betty a visit!
ClinchFit Coach
Natalie Keller
Natalie began training in our ClinchFit program at Clinch Academy in 2014. Now Natalie is a Level 1 ClinchFit instructor and teaches our women's only ClinchFit class. Recently, Natalie has also began her journey in Brazilian Jiu-Jitsu! If you want to have fun getting in shape, while also learning how to effectively punch and kick, come try one of Natalie's ClinchFit classes!
White Belt Coach
Brandy Madison
Brandy Madison is the wife of Professor Joshua Madison. Brandy began training in BJJ at Clinch Academy in 2017. Currently Brandy has her white belt with 2 blue stripes and is an assistant coach in our Lil' Warrior and Youth Programs.
"Whether it be our students or our staff we strive to provide an environment that challenges everyone to grow and succeed."
"A black belt is a white belt who never quit. Become more than a black belt. Become a professor!"